American Government
American Government is designed to meet the scope and sequence requirements of the single-semester American government course. This title includes innovative features designed to enhance student learning, including Insider Perspective features and a Get Connected Module that shows students how they can get engaged in the political process. The book provides an important opportunity for students to learn the core concepts of American government and understand how those concepts apply to their lives and the world around them. American Government includes updated information on the 2016 presidential election.
Senior Contributing Authors
Glen Krutz (Content Lead), University of Oklahoma
Sylvie Waskiewicz, PhD (Lead Editor)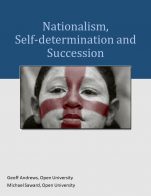 Description: What makes a 'nation' and what makes peoples strive for nationhood? This unit will provide you with an introduction to studying political ideas by looking at how people who see themselves as nations challenge the existing order to assert their right to a state of their own. After studying this unit you should be able to: grasp the concepts of nation, nationalism and self-determination; have a better understanding of the role they play in current political disputes; think about the problem of how to take democratic decisions about secession; relate political theory to political practice more rigorously; take a more informed and active part in debates about national and international politics.
Authors: Geoff Andrews, Open University, Michael Saward, Open University
The focus of this book is on using quantitative research methods to test hypotheses and build theory in political science, public policy and public administration. It is designed for advanced undergraduate courses, or introductory and intermediate graduate-level courses. The first part of the book introduces the scientific method, then covers research design, measurement, descriptive statistics, probability, inference, and basic measures of association. The second part of the book covers bivariate and multiple linear regression using the ordinary least squares, the calculus and matrix algebra that are necessary for understanding bivariate and multiple linear regression, the assumptions that underlie these methods, and then provides a short introduction to generalized linear models. The book fully embraces the open access and open source philosophies. The book is freely available in the SHAREOK repository; it is written in R Markdown files that are available in a public GitHub repository; it uses and teaches R and RStudio for data analysis, visualization and data management; and it uses publicly available survey data (from the Meso-Scale Integrated Socio-geographic Network) to illustrate important concepts and methods. We encourage students to download the data, replicate the examples, and explore further! We also encourage instructors to download the R Markdown files and modify the text for use in different courses.
Global Women's Issues: Women in the World Today, extended version
Description: We cannot solve global challenges unless women participate fully in efforts to find solutions. Female participation in the private sector is a crucial economic driver for societies worldwide. Economic security benefits every facet of a woman's life, with positive effects on the health, education and vitality of families. Learn about women who are changing their societies for the better. This book is based on the twelve critical areas of concern identified in the Beijing Declaration and Platform for Action at the Fourth World Conference on Women in Beijing in 1995: The burden of poverty on women, unequal access to education and training, inequalities and inadequacies in and unequal access to health care and related services, violence against women, the effects of armed or other kinds of conflict on women, including those living under foreign occupation, inequality in economic structures and policies, inequality between men and women in the sharing of power and decision-making at all levels, insufficient mechanisms at all levels to promote the advancement of women, lack of respect for and inadequate promotion and protection of the human rights of women, stereotyping of women and inequality in women's access to and participation in all communication systems, especially in the media, gender inequalities in the management of natural resources and in the safeguarding of the environment, and persistent discrimination against and violation of the rights of the girl child. This extended version of Global Women's Issues: Women in the World Today includes, for each chapter, a summary, key words, multiple choice questions, discussion questions, essay questions, and a list of additional resources. Copies of the original book are also available in Arabic, Portuguese, and Spanish.
Author: United States Department of State, Bureau of International Information Programs , Dr. Janni Aragon, Dr. Mariel Miller, University of Victoria
Original source: publications.america.gov
Author: United States Department of State Bureau of International Information Programs
Description: In all civilized nations, attempts are made to define and buttress human rights. The core of the concept is the same everywhere: Human rights are the rights that one has simply because one is human. They are universal and equal. The following publication gives an overview of Human Rights across the globe. The online version of this book is available in several languages: Arabic, French, Farsi, Spanish, Russian, Chinese, Korean, and Vietnamese.
Description: Democracy is more than just a set of specific government institutions. In a democracy, government is only one thread in the social fabric of many and varied public and private institutions, legal forums, political parties, organizations and associations. This diversity is called pluralism, and it assumes that the many organized groups and institutions in a democratic society do not depend upon government for their existence, legitimacy or authority.
Author: United States Department of State Bureau of International Information Programs