Blueprint for Success in College and Career remixes four previously existing OER: A Different Road to College: A Guide for Transitioning to College For Non-traditional Students by Alise Lamoreaux, How to Learn Like a Pro! by Phylis Nissila, Foundations for Academic Success: Words of Wisdom, edited by Thomas Priester, College Success, provided by Lumen Learning, and one previously copyrighted textbook with content now openly licensed: Blueprint for Success in College: Indispensable Study Skills and Time Management Strategies by Dave Dillon. Blueprint for Success in College and Career is a students' guide for classroom and career success. This text, designed to show how to be successful in college and in career preparation, focuses on study skills, time management, career exploration, health, and financial literacy.
A Different Road To College: A Guide For Transitioning Non-Traditional Students by Alise Lamoreaux is designed to introduce students to the contextual issues of college. Non-traditional students have an ever-growing presence on college campuses, especially community colleges. This open educational resource is designed to engage students in seeing themselves as college students and understanding the complexity of what that means to their lives.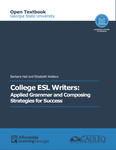 College ESL Writers: Applied Grammar and Composing Strategies for Success by Barbara Hall and Elizabeth Wallace is designed as a comprehensive grammar and writing etext for high intermediate and advanced level non-native speakers of English. We open the text with a discussion on the sentence and then break it down into its elemental components, before reconstructing them into effective sentences with paragraphs and larger academic assignments. Following that, we provide instruction in paragraph and essay writing with several opportunities to both review the fundamentals as well as to demonstrate mastery and move on to more challenging assignments.