OER textbook by Adam J. McKee. Abstract from OER Commons: "This book provides an overview of the criminal justice system of the United States. It is intended to provide the introductory student a concise yet balanced introduction to the workings of the legal system as well as policing, courts, corrections, and juvenile justice. Six chapters, each divided into five sections, provide the reader a consistent, comfortable format as well as providing the instructor with a consistent framework for ease of instructional design."
Fundamental Cases in Criminal Justice
By Adam J. McKee.
---
American Government
Abstract from OpenStax: American Government is designed to meet the scope and sequence requirements of the single-semester American government course. This title includes innovative features designed to enhance student learning, including Insider Perspective features and a Get Connected Module that shows students how they can get engaged in the political process. The book provides an important opportunity for students to learn the core concepts of American government and understand how those concepts apply to their lives and the world around them. American Government includes updated information on the 2016 presidential election.
American Government by OpenStax is licensed under Creative Commons Attribution License v4.0.
---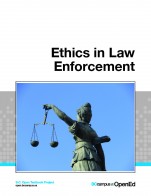 Description from BCCampus: In this book, you will examine the moral and ethical issues that exist within law enforcement. This book will also familiarize you with the basic history, principles, and theories of ethics. These concepts will then be applied to the major components of the criminal justice system: policing, the courts, and corrections. Discussion will focus on personal values, individual responsibility, decision making, discretion, and the structure of accountability. Specific topics covered will include core values, codes of conduct, ethical dilemmas, organizational consequences, liability, and the importance of critical thinking. By the end of this book, you will be able to distinguish and critically debate contemporary ethical issues in law enforcement.
Ethics in Law Enforcement by Steve McCartney, Justice Institute of British Columbia, Rick Parent, Simon Fraser University is licensed under a Creative Commons Attribution 4.0 International License, except where otherwise noted
---
Deviance, Crime, and Social Control (Textbook Chapter)
Chapter 7 from
BCCampus
open textbook
Introduction to Sociology
– 1st Canadian Edition.
Description from the University of Minnesota: Social Problems: Continuity and Change is a realistic but motivating look at the many issues that are facing our society today. As this book's subtitle, Continuity and Change, implies, social problems are persistent, but they have also improved in the past and can be improved in the present and future, provided that our nation has the wisdom and will to address them.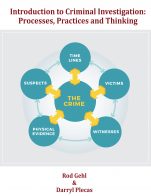 Description from BCCampus: Introduction to Criminal Investigation, Processes, Practices, and Thinking, as the title suggests, is a teaching text describing and segmenting criminal investigations into its component parts to illustrate the craft of criminal investigation. Delineating criminal investigation within the components of task-skills and thinking-skills, this book describes task-skills such incident response, crime scene management, evidence management, witness management, and forensic analysis, as essential foundations supporting the critical thinking-skills of offense validation and theory development for the creation of effective investigative plans aimed at forming reasonable grounds for belief. The goal of the text is to assist the reader in forming their own structured mental map of investigative thinking practices.
Introduction to Criminal Investigation: Processes, Practices and Thinking by Rod Gehl, Justice Institute of British Columbia, Darryl Plecas, University of the Fraser Valley is licensed under a Creative Commons Attribution-NonCommercial 4.0 International License, except where otherwise noted.